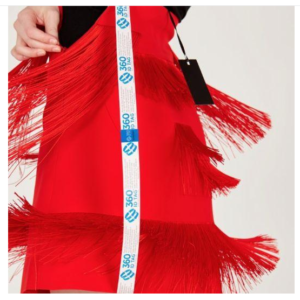 One enterprising eBay seller has launched a range of tamper proof labels which aims to reduce buyer fraud, in particular the scheme where buyers purchase an expensive piece of clothing, wear it once and then return it as unsuitable, sometimes with stains or damage. Known as "Wardrobing", this abuse can be very difficult to prevent and prove to eBay or Amazon.
360 ID tag in the US has designed an adaptable system which uses both lengths of tape and tamper proof labels to reduce this fraud. Each label has a unique number which can be used to prove that the item has been switched or worn. This also complies with eBay's "With tags attached" policy.
The tag system can in theory be used with any item where it can be safely attached to. – the system averages about 55cents (45p) per item, and then there is the time taken to attach, record and check security numbers, so it's not for everyone.
Here is a link to the seller's website: https://www.360idtag.com/products/classic-loop-pack (they post worldwide).