Sales drop on eBay (and Amazon)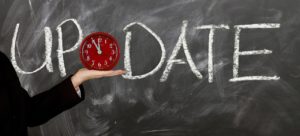 Recently we have seen significant drops in sales across a wide range of sectors on eBay, and for several types of products on Amazon too. The drop was most apparent in the week of October 7th-14th, when we saw drops of 15-20% routinely.
Some examples we saw on Terapeak:
Keywords
Sales October

1-7

Sales October

8-14

Decrease sales
Decrease %
Sales October 21 -28
Kawasaki Bolt
£3452
£2631
£821
23.78
£3932
Eyelash Serum
£14853
£12533
£32320
15.62
£11440
Pigeon Netting
£2559
£1946
£613
23.95
£2153
Sports Boxers
£14911
£13223
£1688
11.32
£11967
Leaner Mirror
£14332
£12816
£1516
10.58
£13571
Replacement iPhone Battery
£49068
£45652
£3416
6.96
£39768
Women's Jeggings
£49625
£43614
£6011
12.11
£38590
Cabin Trolley
£45148
£36771
£8377
18.55
£30313
Goose Feather Duvet
£16674
£13758
£2916
17.49
£14132
iPhone 6s Plus Case
£192255
£176974
£15281
7.95
£139619
Chaise Longue
£23602
£17226
£6376
27.01
£20766
What caused this? It could be a range of issues: uncertainty about Brexit, or the economy generally; buyers waiting for Black Friday deals; buyers saving for Christmas; eBay losing favour with Google; buyers staying away from eBay generally; a combination of factors.
We also saw decreases in several Amazon accounts, although not as marked. There is some evidence to suggest that at least some of this dip is the time of year.
Research carried out by Doddle.com, the Click and Collect provider, found that over half (52%) of 18 to 24 year olds said that they'll make a detailed list of the purchases they want to make before the big day, while a Royal Mail study, carried out by Trinity McQueen, questioned online 1,500 shoppers and found that although 30% would start buying for Christmas in October, most online shopping for Christmas would take place between November 15 and December 13.
Information from the delivery giants IMRG suggests that shoppers are holding off from spending, as they look forward to pre-Christmas discounting. The latest IMRG MetaPack UK Delivery Index Online detects slower than usual online shipping in September 2018 when it says retail parcel delivery order volumes rose by 6.4%, year-on-year, which compares poorly with previous years. Order volumes often slow from month to month around this time of year, but this year, says IMRG, the decline has been sharper than usual.
If you have enjoyed reading this post, check out my other insights into eBay by clicking here – eBay Blog
If you would like to be added to our FREE Newsletter please fill in the form below: