Latest News and Comments About eBay (November 2017)
Welcome to the latest issue of regular updates about eBay which are part of your managed account service.
 GDPR Changes coming soon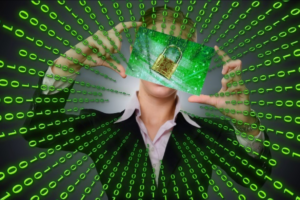 On 25 May 2018 new rules come into force regarding data capture and protection (GDPR). The updated regulations are something all businesses need to be aware of, and more information can be found here (including a summary of key changes) https://www.eugdpr.org/
However this leads to another issue more relevant to eBay sellers – how can you capture and market to your eBay buyers? The simple answer is you can't – eBay buyers 'email addresses belong to eBay, not the seller, and it also breaks UK law to contact buyers without their express permission. Simply buying an item from you through eBay is not express permission.
What are the risks though – perhaps it's worth doing? After all, direct email marketing is a useful way to increase sales.
It's a decision every business must make for itself, but personally I would advise not. There are several issues:
Doing so breaks eBay's rules and as we know they can be harsh with punishments
Doing so may trigger email software such as Mailchimp, or even ISPs' spam filters and result in them banning your email account
Doing so breaks UK laws about contacting buyers
Doing so will probably irritate buyers
2. eBay and Amazon statistics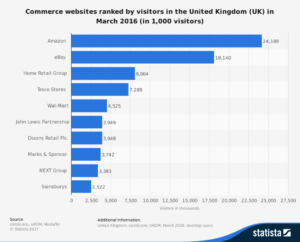 Some interesting facts and figures have been made available recently. The above chart dates from March 2016, before the acquisition of the Home Retail Group by Sainsbury's, but such numbers are quite rare and still of interest.
More recently, Amazon and eBay disclosed some interesting statistics to the Public Accounts Committee (PAC):
There are 280,000 registered sellers trading on the UK Amazon site. Of these, 16% or around 46,000 are from outside the EU.
There are 200,000 professional sellers registered on the eBay UK site.  157,000 (78%) are based in the UK, with 43,000 (22%) from outside the UK.
Perhaps surprisingly, 90% of all UK sales were to UK based sellers (although that would include sellers who state they are based in the UK but are based overseas.)
HM Revenue and Customs told the PAC that the number of online sellers from overseas registered for VAT has risen from 700 at the end of 2015 to 17,537 by the end of August 2017, a quite astonishing rise and showing that both eBay and Amazon, and HMRC seem to be taking VAT evasion seriously.
eBay Inc also released some figures about eBay in the UK and EU – https://inside-ebay.eu/en/inside-ebay#ebay-economy
This shows a few highlights around which sectors are doing well in which countries.
3. eBay Changes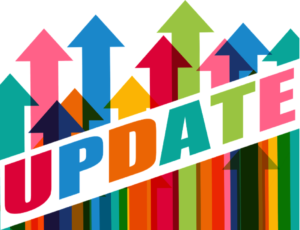 Autumn 2017 saw a heavy-handed approach to contact details in messages which thankfully appears to have eased off. Too late for one client I spoke to recently, who was suspended from eBay because a buyer sent their telephone number and asked him to contact him. The first thing this seller knew about it was a suspension message from eBay, who eventually reinstated him – but of course, all his sales history was lost.
It's worth remembering that eBay allows contact details to be exchanged once the buyer has "Committed to buy" – usually, but not always, when the buyer has completed a sale. One option (which needs careful thought before implementing) is to remove the instant payment option with PayPal. This means that buyers can "commit to buy" without paying, and at that point be able to speak to you.
eBay has confirmed that careful wording to this effect can be put on a listing description – for example:
When you buy this (item) you don't have to pay immediately. Once you have clicked Buy It Now, you will then be able to receive our telephone number so that you can phone us and confirm your specific requirements.
If you then find this particular (item) is not what you want it is a simple process to cancel the transaction through eBay.
We are here to help. Click here to ask us any question related to eBay or Our Services.