How Asking For Feedback Can Backfire
There's been a lot of talk recently about how few buyers leave feedback on eBay any more. Generally it's buyers who complain that are quickest to leave a negative or neutral comment, and it can be very frustrating for an eBay seller when you know you have hundreds or even thousands of happy, satisfied customers who never leave feedback and tell the world how they had a great experience.
What to do? You can buy software that will send gentle reminders, and eBay also nudges buyers on your behalf. Automated reminders can be set up within Selling Manager Pro and many other software solutions.
But be careful – look how this turned out for one seller: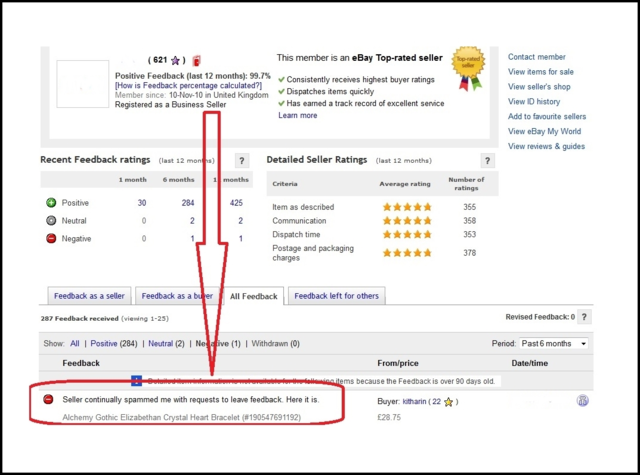 My advice? Don't bother. Now that defects are confined to out of stocks and dealing with buyer complaints, feedback score is far less important – eBay is recognising that is only around 25% of buyers are leaving feedback, and that it's disproportionately dissatisfied buyers at that, the whole idea of judging a seller on their feedback becomes unreliable. Of course it's still taken into account, but it's not a crucial area any more.
So concentrate instead on the basics – quick responses to queries, friendly and efficient service, putting things right when you get it wrong, and leave feedback well alone.
I'll be talking soon about the Positive Feedback First system – this is one way to maximise the opportunities of feedback.