Useful information from SimilarWeb, explaining some of the thinking behind eBay's direction: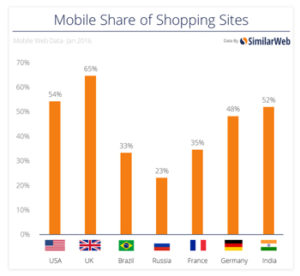 SimilarWeb looked at 25 of the top shopping websites in 7 countries (USA, UK, Brazil, Russia, France, Germany, and India) and as of January 2016 in three of these countries mobile shopping is more prevalent than desktop.
The UK is followed by the USA (54%) and India (52%) with Germany not far behind on 48%.
As with all statistics, if you dig beneath the surface a little you'll find that desktop shopping is still important. Whilst mobile might be growing ever faster, when shoppers are on their desktops they spend more time on your site. SimilarWeb found that in the UK a mobile shopper will browse on average 7.6 pages but on a desktop this jumps to 13.6 pages.
Similarly mobile shoppers spend an average of 5 minutes and 14 seconds but if a shopper is on a desktop they'll hang around for 7 minutes and 30 seconds. Desktop users are much more highly engaged with your site.
It's pretty obvious that for your own website it's critical to have a mobile optimised version. Users are more patient, want to find products to purchase in fewer clicks and complete the transaction faster. Your desktop site shouldn't be ignored though and cater for the serious shopper who is willing to spend more time on your site.
If you're selling on a marketplace the temptation might be simply to dump your custom template in favour of a simple text description. Again doing so will serve your mobile customers better but it will do a disservice to the 35% of users who still use a desktop. This should be telling you that you need a responsive template which highlights the most pertinent information concisely for mobile shoppers but gives a richer experience for those still buying on a desktop.
There are now plenty of statistics indicating that mobile ecommerce has risen about the 50% mark. Approaching two thirds is a new landmark but it's possible that those still using a desktop may be those willing to spend more, they're certainly staying on your site or listings longer and have more patience than those on a mobile.
If you have enjoyed reading this post, check out my other insights into eBay here –  eBay Blog
Why not come along to my eBay Masterclass Training in Newcastle upon Tyne to learn more insights?

Topics include:
How to create a Search Engine Friendly eBay shop.
The Art of optimising titles.
Researching your market – Competitors and how to beat them.
How to get to the top of eBay Search results (eBay Cassini Search)
Introduction to trading internationally on eBay.
Top Rated seller Status – how to tell if it matters and how to get it
Using eBay Promotional Tools – buyers love a sale.
Advanced Selling Techniques, proven and experimental
Book a place here: eBay Masterclass