Free Online Masterclasses for your business!
We are delighted to be part of RHWE's Digital Masterclass Programme, running from April to June 17th 2021.
These Zoom meetings are a chance to learn remotely about a range of digital business issues, from writing Engaging content to our own Selling Online Support Workshops. The full programme can be seen here: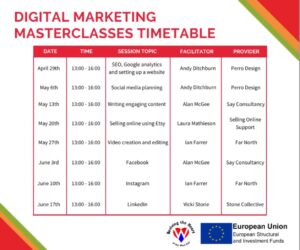 On Thursday May 20th I am presenting 3 x one hour workshops:
Introduction to Selling Online
Introduction to Selling on eBay
Introduction to Selling on Etsy
These are free to attend, but you must register in advance. Contact info@rhwe.org to book a place now! 
More information here
If you have enjoyed reading this post, check out my other insights into eBay by clicking here – eBay Blog
If you would like to be added to our FREE Newsletter please fill in the form below: