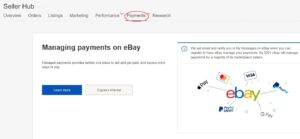 eBay has been rolling out the Managed Payments system on numerous accounts.
There are several steps in this process, and different sellers will be at different stages. You can see what stage you are at through a new tab in Seller Hub called Payments.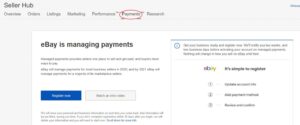 The first stage is an expression of interest (see above image).
This involves registering your business name and contact details.
Once you have expressed an interest eBay will then contact you and there is another set of information which needs to be completed.
This involves providing identity verification including your date of birth, plus bank account information which matches your eBay business and personal information (such as name and date of birth). The details required vary depending on whether or not you are a sole trader, limited company, or partnership etc.
Once this process is complete you wait for eBay to activate it – they will give at least two weeks' notice.
Once activated, your payments tab will show a range of options and reports, see this example (all identifying details and amounts removed):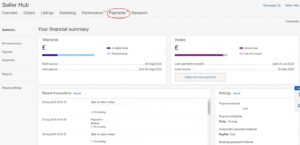 The payments are showing up in real time – eBay is taking its fee at point of sale, although there will be some anomalies for the first month while the systems integrate.
Some tips we have picked up which may be of use:
You may have to upload various documents to eBay in order to complete the registration, and these will vary depending on your business setup, but it does seem to be important to match the details that are in your eBay account – especially the date of birth and name on the account. Apparently it is possible to change the date of birth if you have taken over someone else's account (not actually allowed on eBay but hopefully they will allow it rather than lose a good seller) but you do need to phone eBay and explain. It would be best to explain the account was given to you by a relative.
The eBay details need to match the bank account details – you can have more than one eBay account linked to the same bank account apparently but it's not clear how this works.  
It seems that Limited companies are easier to register than being a sole trader or partnership.
If there are differences in the details then try changing the registered eBay business details to match your business name and bank account, even if this means changing your first and last name on the business section to Business/Name instead of first name/last name.
Change them here: https://cgi4.ebay.co.uk/ws/eBayISAPI.dll?RegisterBizSellerInfo
Most of our clients have registered with no problems, but it's probably best now to get this out of the way.
If you have enjoyed reading this post, check out my other insights into eBay by clicking here – eBay Blog
If you would like to be added to our FREE Newsletter please fill in the form below: