eBay Peer to Peer Metrics 2018
eBay has delayed showing the new peer to peer returns metric until the August evaluation. This is an expansion of the Seller metrics, and is designed to punish sellers who have very high rates of returns for SNAD returns. These are returns where the item
Doesn't work or is defective
Doesn't match the description or photos
Wrong item sent
Missing parts or pieces
Arrived damaged
Doesn't seem authentic
All open returns will be counted, but if they are subsequently cancelled by the buyer then they won't be counted for the next month. This is similar to the way late deliveries can be cancelled.
eBay will compare your returns with those of your peers, and classify you as having either Low, Average, High or Very High levels in comparison. Those sellers who fall into the Very High bracket will have an additional 4% in final value fees added on to their fees, and also extra time will be added on to delivery options. This will result in extra costs and ultimately listings which will be demoted in search results.
Change of mind returns will not be counted.
The peer to peer comparison will compare items in the same main category and match in all of the following ways:
items have a similar selling price;
items match the condition (new or used for instance);
with the same level of transactions (ie sellers evaluated over 3 months will be compared with other sellers evaluated over 3 months)
items have similar delivery dates.
The evaluation will be on the 20th of every month, and the look back period will be the same as other seller metrics.
Warning emails have already been sent out to any seller who is currently High or Very High, and ongoing warnings will be sent out in the same way that changes in Seller status are at the moment.
Originally eBay also intended to include Items Not Received cases at well, but they have now delayed that change until 2019.
This is how it will look in Seller Hub: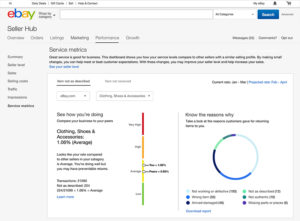 If you have enjoyed reading this post, check out my other insights into eBay by clicking here – eBay Blog
If you would like to be added to our FREE Newsletter please fill in the form below: