Coping With eBay's Spring Updates 2016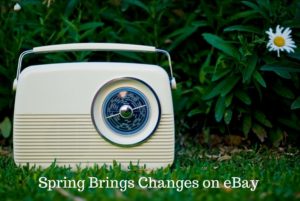 So how was February and March for you? With several major changes rolling out, the disruption was surprisingly low. However, read on to see how the changes can affect your business….
Product Identifiers 
Despite eBay's insistence, the reality was that many GTC listings did not in fact end automatically. I would regard this as an extension of time required, as eBay has been very clear that they want as many products as possible to have identifying numbers.
Defects 
Most good sellers saw almost no impact due to the new defects, as they mainly impacted sellers who were often out of stock or who ignored buyers.
Delivery Metrics
This is the big one – many sellers have either lost Top Rated Seller Status or will lose it next month, because of the new metrics. Several points here:
First, as so many sellers are being affected, if you lose your TRS it may not matter very much if all your competitors are also losing theirs.
Second, take a good look at how you might add tracking to your parcels – MyHermes has some very competitive prices, and if the volume of your sales is more than 1000 parcels per year then it can be worth talking to Royal Mail to see if you can add on tracking without significantly increasing costs.
Thirdly, although the system is supposed to be automated, many sellers are finding that eBay is wrongly marking them down, by not taking into account weekends for instance. These errors can be challenged and removed, although it does require phoning Customer Services and pointing out errors.
Finally, if adding tracking is not an option, consider adding some text into your packing slips. Without tracking information, eBay is relying on buyers' perceptions to see if you are fulfilling your delivery promises, and often buyers can't remember or don't care that your parcel arrived on time. So for instance, you could remind them that your parcels arrive with buyers 93% of the time, and to please get in touch if this wasn't the case so they can investigate.
Why not come along to my eBay Masterclass Training in Newcastle upon Tyne to learn more insights?

Topics include:
How to create a Search Engine Friendly eBay shop.
The Art of optimising titles.
Researching your market – Competitors and how to beat them.
How to get to the top of eBay Search results (eBay Cassini Search)
Introduction to trading internationally on eBay.
Top Rated seller Status – how to tell if it matters and how to get it
Using eBay Promotional Tools – buyers love a sale.
Advanced Selling Techniques, proven and experimental
Book a place here: eBay Masterclass