Changes to eBay Promotions Part One and Two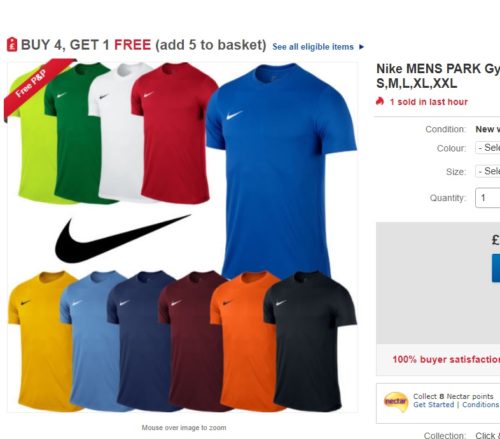 Changes to eBay Promotions Part One
We have noticed a dramatic reduction in the number of order discounts that are visible on eBay UK, but it may be that they are not reduced, but invisible. Order discounts are when listings show incentives to upsell, such as the "Buy 4, get one 1 free" listing illustrated above. This is an excellent method to entice buyers to buy more than one item, and often the eligible items are spread across product ranges which makes the discount more attractive and encourages buyers to keep their purchases within one seller's shop.
Many sellers use this Promotion, and it's become almost obligatory as buyers love to save money. However recently we have seen very few discounts available, and this may be tied to an eBay initiative to only highlight "Good" offers and suppress "bad" offers. This was revealed by Bob Kupbens back in July and applied to the US site, but it looks as if the system is now being applied to the UK site as well.
In the US, offers deemed low quality (for instance, Buy 3 get a dollar off when the item costs $500) are being actively suppressed and shown at the bottom of the listing, if at all.
eBay has not given any clues as to what constitutes a "good" offer, so we can only guess. We have been given conflicting advice about this from eBay, ranging from "it's a technical glitch" to "you have to include more than listing in the offer".
Changes to eBay Promotions Part Two
eBay has also quietly changed the qualifying criteria to hold a sale event.
UK law states that in order for a product to be legitimately sold at a "Sale" price, it must have been on sale somewhere in the UK at a higher price for more than 28 days previously. This is to prevent meaningless rolling sales of products which are never actually a higher price.

eBay has apparently negotiated a lower number of days, so that now an item only needs to have been on sale for the previous 14 days before it becomes eligible to be sold in a "Sale event". However along with this comes another change – it's not only the price which must have been unchanged for 14 days – the title and description must also have not been changed. eBay has been confused about what exactly must remain unchanged – it may be that any changes, including quantity and postage options will also be counted, but we've had conflicting advice from eBay about that.


North Tyneside businesses can get my help fully funded – Click here to contact me to find out how.
If you have enjoyed reading this post, check out my other insights into eBay by clicking here – eBay Blog
If you would like to be added to our FREE Newsletter please fill in the form below: